Valentine's day is the perfect time to show that special person how you feel about them. While you're thinking about flowers, candlelit dinners, and the perfect movie, the plumbing in your home may have a different idea – especially if your big goal for the night is to ask them to move in.
Sure it's all fun and romance with the initial excitement, but once your plumbing has to handle the use of two, it may not be so happy. Whether you think about it or not, and you most likely don't, your plumbing does get accustomed to your daily routine.
It's able to accommodate a single user flushing, washing dishes, and showering, but when you mix in another person, disaster could be on the horizon. So before you start making duplicates of your keys and opening space in your closet this Valentine's day, consider these helpful plumbing tips that could ensure you live happily ever after!
Upgrading Your Bathroom Plumbing
If you have the budget to upgrade all your fixtures, then more power to you! But for most people, moving in with someone new requires more reasonable adjustments to protect your plumbing.
Your bathroom is one of those high traffic areas that will get more use than usual with a new person living in your home. A common problem for most stems from the toilet.
As a good rule of thumb, always try to have a garbage can in the bathroom and set some ground rules. Avoid throwing certain items down the toilet like:
Q-tips
Floss
Cat litter
Excess hair
Makeup sponges
While some of these items may seem flushable, they can actually cause clogs in your plumbing, particularly if it's coming in pairs and not singles.
How to Prevent Shower Clogs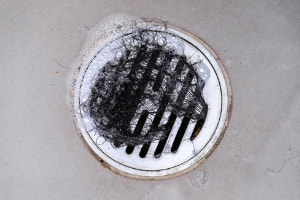 Outside of your toilet, the next area in your bathroom that's going to be looking for help is your shower – especially if your new roommate has long hair.
While old plumbing can play a role in your shower issues, the main cause is always going to be excess hair. Mix in some soap and shampoo, and the excess hair that goes down your drain can stick to your pipes and block the flow of water.
While some clogs can easily be pulled right from the drain, other times, these issues run deeper and will require the help of a plumbing pro. The easiest way to stop the problem is the get a hair net for your drain and install it right as you're moving things into your new place.
Always Know a Professional Plumber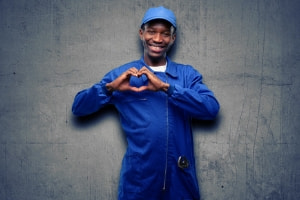 Whether you're a big-time planner or a fly by the seat of your pants kind of person, moving in with someone can be a challenge.
While new love can get you through a lot, it may get taxing when you're dealing with a toilet clog every other day, because someone flushed something they weren't supposed to.
It's generally a good idea to know a plumbing pro you can call. While we might not cook you dinner, at Locklear Plumbing we can keep your plumbing flowing at all times. As your Calhoun plumbing pros, our goal is to make life easier, so you can enjoy those romantic Valentine's Day festivities every year.
And remember, if you really love someone, you always make sure they're living their best life – so be sure to share our blog and help a friend before they take the big leap!