Residential Plumbing Services in Kennesaw, GA
Do you have a leaky faucet that needs to be repaired or an aging water heater that needs to be replaced? Call us for plumbing services in Kennesaw, GA.
Is it time to replace your aging, corroding water heater? Or do you need immediate plumbing services to repair a leaking pipe? Schedule professional plumbing repairs to remedy the issue and restore comfort and safety to your house. Call Locklear Plumbing for services in Kennesaw, GA. A family-owned and operated company, we offer flat-rate pricing to ensure there are no surprises later!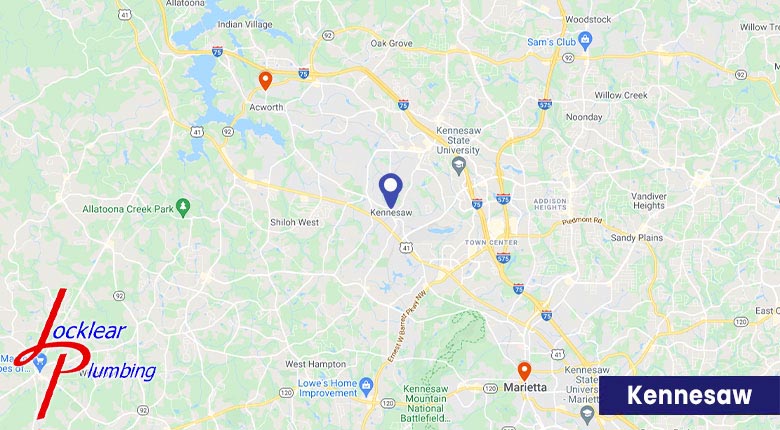 We provide complete plumbing services to Kennesaw, including:
Different Types of Sump Pumps
Sump pumps help prevent floodwaters from entering your home during a major storm. When installing a unit in your house, you have many options, including:
PEDESTAL SUMP PUMPS
These systems have their pump set at the top of the sump basin. This gives plumbers easy access to it in case it needs a repair or replacement.
SUBMERSIBLE SUMP PUMPS
These units function on a waterproof motor and are placed right into the sump pit. This results in a more quiet operation.
SEWAGE SEPTIC PUMPS
This unit is used to move black wastewater material up a level from a basement below the ground surface. These systems grind the waste into a fine slurry, which is then pumped upward into a septic tank system.
SEPTIC EFFLUENT PUMPS
These devices are another special-purpose unit used to force liquefied septic fluids through drain fields.
Common Water Heater Problems
Occasionally your water heater might need repairs. Some common issues that can leave you calling for professional services can include:
LACK OF HOT WATER
One of the most noticeable issues with your unit is a lack of hot water. For gas-powered water heaters, this can be caused by an extinguished pilot light. To remedy it, a plumber just needs to relight the pilot. It could also be due to something more serious, like a damaged heating element.
LEAKS OR CRACKS
If you have a leak or a crack in your system, a plumber should inspect it to determine if the unit can be repaired or if it needs to be replaced.
LOUD OR ODD NOISES
Excess noises coming from your unit can signal a damaged heating element or a buildup of sediment inside the unit that must be professionally removed.
Symptoms That Signal You Need Professional Drain Cleaning Services
While you might be able to succeed in occasionally using a homemade solution to clean your drains, there are signs you must watch for that can indicate you need professional drain cleaning services. These can include:
Slow drains can indicate a variety of problems, including the early stages of a clog, or pipes that have been narrowed due to mineral or grease buildup.