Plumbing Services in Marietta, GA
Does your aging piping system need to be replaced, or does your water heater need a tune-up? Call us for residential plumbing repairs in Marietta, Ga
Do you try to remedy minor plumbing problems by DIY and looking for how-to videos on YouTube? You can end up making small issues and major problems trying to do it yourself. Instead, save yourself the time, hassle, and money and hire a plumber to get it right the first time. Call Locklear Plumbing for plumbing services in Marietta. A family-owned and operated company, we only send licensed experts into your home.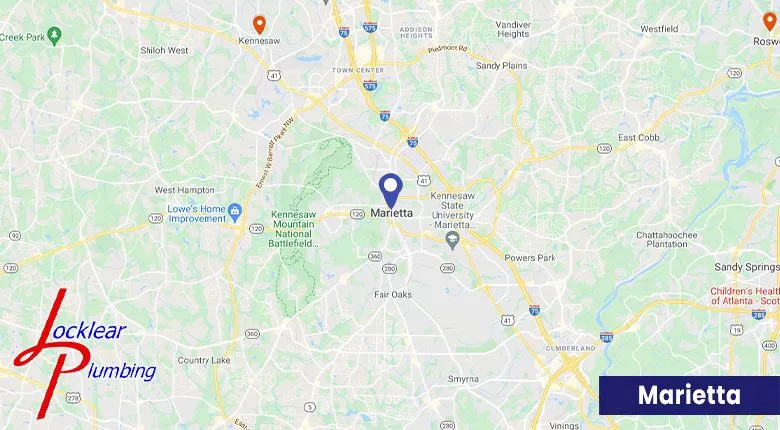 We provide complete plumbing services to Marietta, GA, including:
Why You Need a Sump Pump
When major storms occur in Marietta, you could be at risk for flooding inside of your house. Fortunately, you can avoid this emergency situation by having a functioning sump pump. These units pump water away from your property, preventing the floodwaters from entering your home and causing water damage to your flooring, walls, electrical system, and more. It can even lead to the growth of mold and mildew. If you need your sump pump repaired or replaced, call Locklear Plumbing to let our experts get the work done.
What To Know About Tankless Water Heaters
When installing a new water heater, you might opt for a more energy-efficient tankless unit. These systems come with a lot of benefits, but there is also key information you should know about these units before you have one installed:
How To Avoid Clogged Drains
Clogged drains can leave you showering in standing water and enduring smelly drains. Fortunately, there are ways to avoid getting blockages:
Don't put food scraps down the drain. Instead, scrape them into the trash.
Never pour grease down the drain. After it cools, throw it in the garbage.
Avoid getting hair down the shower drain by installing a screen over the drain.
Only flush toilet paper and sewage down the toilet.
Schedule regular professional drain cleanings.