Plumbing Repair & Installation Services in Emerson, GA
Professional plumbing and water heater services in Emerson, GA.
When you have a water leak or clogged drain in your home, it can bring all activity to a standstill. Not only do you have to think about water damage and potential cleanup, but foul odors, mold and other issues can make the situation even worse. When problems do arise, having access to a reputable service provider makes a world of difference.
In the Emerson, GA area, Locklear Plumbing is the go-to service provider that can give you peace of mind about your plumbing troubles. We focus on an exceptional customer service experience, treating each customer as if they were family. We offer same-day service so you can have your issue addressed quickly, and use a flat rate pricing model that eliminates the possibility of hidden fees when you get your bill.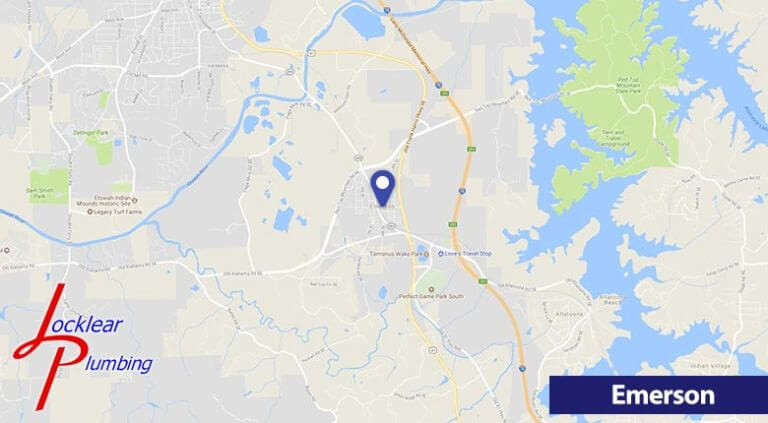 Dependable Plumbing Repairs & Installations
There's nothing like a serious water leak or clogged drain to put a damper on your day. That's why we offer expert plumbing services that will let you take control of the situation and get some relief. From slab leak repair to water leak detection to clogged toilet repair to drain cleaning, we have a full range of services to keep you happy. We also provide bathroom remodeling services for homeowners that want a fresh look to their bathrooms.
Complete Water Heater Services
Signs like increased water bills, pools of water around hot water tanks, or loud rumbling and banging during operation all point to an issue that requires water heater repair. When you call us in to inspect your water heater, we will assess the situation and let you know if repair or water heater replacement is the best option, and go from there.
We may also suggest tankless water heater installation. This type of system works without the standard hot water tank, giving you hot water on demand, without the fear of running out. Many homeowners have chosen to go with a tankless version, and find them more convenient and cost-effective over the long term.