Top Plumbing Services in Johns Creek, GA
Do you need a new water heater installed or a drain cleaned? Call us for plumbing services in Johns Creek, GA.
You need to act quickly when a plumbing issue occurs at your home to limit the amount of water damage. Whether you have a plumbing emergency, like a burst pipe, or you need repiping services performed, Locklear Plumbing has you covered. Call us for services in Johns Creek. When you call us, we will provide flat-rate pricing.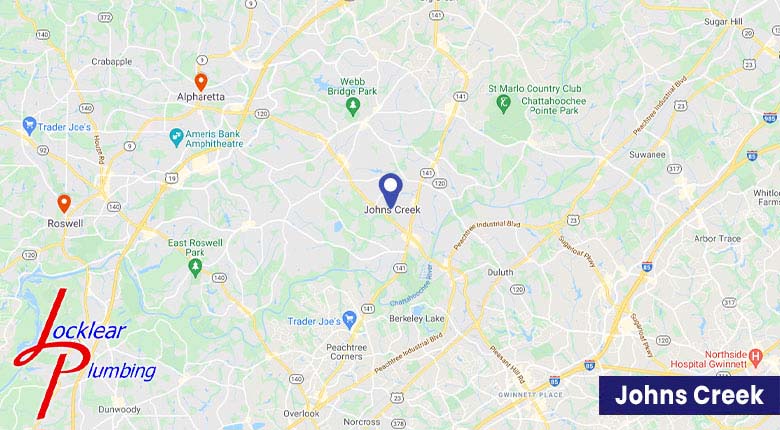 We provide complete plumbing services to Johns Creek, including:
How To Prevent Clogged Toilets
Did you know a serious blockage in your toilet can cause a plumbing emergency? To avoid water damage and potential health risks from sewage on your flooring, use these tips to avoid clogged toilets:
To remind everyone in your household to follow these guidelines, keep a wastebasket near the toilet so non-flushable items can be easily disposed of.
Common Water Heater Problems
Like all appliances in your home, occasionally your water heater might encounter problems that require professional repairs. Some common issues you might experience are:
ABSENCE OF HOT WATER
One of the most common -- and the most noticeable-- issues with your unit is if it stops producing hot water. For gas-powered water heaters, this could be due to an extinguished pilot light which can simply be relit by a plumber. It could also be caused by a damaged heating element.
LEAKING
 If your unit is leaking, have a plumber inspect the leak to determine if it can be repaired or if the system needs to be replaced.
EXCESS NOISE
If your unit is making loud or unusual noises, it could be due to a damaged heating element or a buildup of sediment inside the unit that must be professionally removed.
CRACKS
If your unit is cracked, have it inspected by a professional to determine if it can be repaired.
Signs You Need Professional Drain Cleaning Services
When your drains slow down, do you have a method for cleaning them? If you are pouring a store-bought solution down your system, you should be aware that you could be damaging your pipes. Instead, watch for these signs that can indicate you need to schedule professional services:
Slow drains can indicate a variety of problems, including the early stages of a clog, pipes that have been narrowed due to mineral or grease buildup, or even improper grading of your drainage system.